Britney Spears Buys Jason Trawick $45K Motorcycle For His 40th Birthday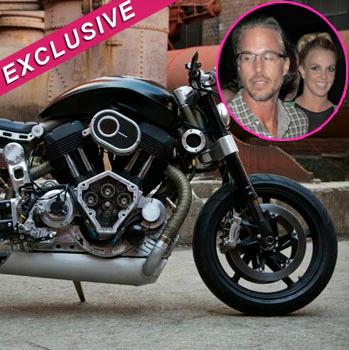 By Leah Ornstein - Radar Style & Beauty Editor
Britney Spears' boyfriend Jason Trawick is joining the ranks of Brad Pitt, Tom Cruise and Bruce Springsteen.
The pop star has purchased "the Bentley of motorcycles" for her manager beau's 40th birthday, dropping a cool $45,000 on the limited edition luxury bike – and RadarOnline.com has exclusive details about her purchase.
"Hbday Jason! He looked so cool in the video, that I had to get him a new motorcycle," the popstar Tweeted Thursday, following it with a photo of the stunning bike.
Article continues below advertisement
Britney ordered Jason's 3rd generation X132 Hellcat from Confederate Motorcycles a few weeks ago from the manufacturer, as well as a $940 leather jacket to go with it!
The bike, which just hit the market, will be delivered to their new California home very soon, according to a representative from the company.
"I think she made the right choice," Clay Morrison, who works for Confederate Motorcycles, tells RadarOnline.com exclusively.
"We couldn't be happier that she chose to share the finest motorcycle in the world with Jason!"
The company also dishes that Britney is one of the first celebs to take delivery of the third generation motorcycle, but that Pitt, Cruise and Springsteen all own former models.
Unfortunately, the custom made bike wasn't ready for Jason's actual birthday (today!) but the company gave Brit a photo of the sweet ride to give to her lucky man.