Bill O'Reilly Defends Waving His Umbrella At 'Occupy' Protestor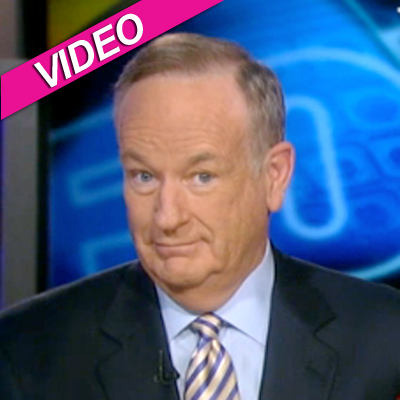 Bill O'Reilly and the Occupy protester he shooed away with an umbrella both gave their sides of the incident on both sides of the cable news circuit Thursday.
In the clip, taken as O'Reilly left a swanky Washington D.C. hotel, Wisconsin native Branden Lane begins peppering the right-wing talk show host with questions, when a gruff O'Reilly barked, "Leave me alone," before his umbrella suddenly blocked the camera's view, and chaos seemingly ensues.
Article continues below advertisement
O'Reilly, on Thursday's edition of The O'Reilly Factor, described the incident from his point of view.
"Some guy comes up behind me screaming, comes out of the rain, doesn't identify himself ... when he was a foot away, I turned and shielded myself and my assistant with an umbrella," he said, hilariously likening himself to Burgess Meredith's incarnation of The Penguin.
He said he contacted the police because he "thought the guy was out of control," but nothing could be done because "there is no criminal statute in Washington unless a person actually touches you, which the guy did not.
"Now, this man could have had a knife -- I didn't know what he was going to do, I didn't know who he was -- but, in the District of Columbia, I couldn't stop him."
"Ironically, a few nights ago, I told you bad things were going to happen because these occupy protesters are becoming increasingly aggressive. But I never thought it was going to happen to me," he said. "However, these anarchists are now everywhere!"
Article continues below advertisement
Occupy protester Branden Lane, speaking with Keith Olbermann, told a completely different tale of the encounter.
"He didn't even try to shield himself," Lane said. "What we're seeing is the same thing we always see, he says he's fair and balanced but ... it's just another example of the type of percent he is."
Watch the video on RadarOnline.com
He said O'Reilly's behavior is at the heart of what the Occupy movement is all about.
"We're fed up and we're not going to sit back and be silent about it anymore," he said.
Lane said he "didn't get knocked to the ground ... when O'Reilly attacked me with the umbrella, he did knock me off the sidewalk, onto the street."
Olbermann asked Lane if he saw the irony in O'Reilly, no stranger to conducting ambush interviews, blowing his fuse over the meeting.
"Given the number of times he's run that scam," Olbermann asked, "were you surprised that that was his reaction to you?"
Article continues below advertisement
Lane said he was shocked at how the talk show host blew up over being asked questions.
"He's the main informant for the one percent," he said. "People like him need to be checked and I'm glad we had the opportunity to do that."