Police Evict Occupy Wall Street Protesters From NYC Park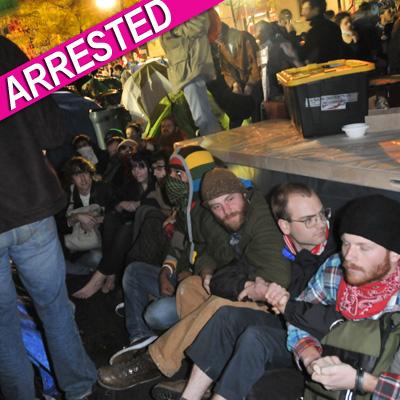 Police officers decked out in riot gear arrested about 70 individuals in New York's Zuccotti Park early Tuesday ending the Occupy Wall Street demonstration that's been going on there since September, RadarOnline.com can report.
Authorities hit the scene at approximately 1 a.m. ET, handing out notices from police and the park's owner (Brookfield Office Properties) informing the protesters they had to clear out because the area had become unsanitary and hazardous.
Article continues below advertisement
"The police are forming a human shield," Occupy Wall Street member Rabbi Chaim Gruber told the AP, "and are pushing everyone away."
Many of the occupiers left peacefully; some headed to Lower Manhattan following their exodus from Zuccotti Park.
New York Mayor Michael Bloomberg said the eviction was done in the middle of the night "to reduce the risk of confrontation in the park, and to minimize disruption to the surrounding neighborhood."
Bloomberg said the park will be closed and cleaned; when it is re-open, citizens "must follow all park rules," which bans the use of tents, sleeping bags or tarps -- essentially ending the demonstration.
"The law that created Zuccotti Park required that it be open for the public to enjoy for passive recreation 24 hours a day," Bloomberg said. "Ever since the occupation began, that law has not been complied with, as the park has been taken over by protesters, making it unavailable to anyone else."