Advertisers Bail On Penn State Football TV Broadcast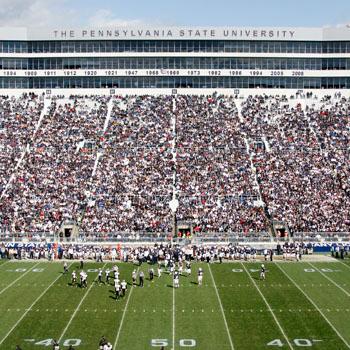 The shocking sex abuse scandal that has bowed Penn State is now affecting the school's bottom line.
At least six advertisers have pulled out of Saturday's ESPN broadcast of the Penn State - Nebraska game, set to kick off at noon, The Wall Street Journal is reporting.
Several top high school recruits who were headed to Happy Valley next September have now also stated they'll be going elsewhere.
Article continues below advertisement
As RadarOnline.com reported , the University's former assistant coach Jerry Sandusky has been charged with 21 felony counts of sexual abuse of at least eight minors. Two current Penn State officials have been charged with perjury for lying to the grand jury investigating Sandusky, and legendary head football coach Joe Paterno has been fired.
Amid the chaos in this very fluid story, a bomb threat was called in to campus police Friday night. Bomb sniffing dogs and dozens of police officers quickly descended on Beaver Stadium and determined in was a hoax.
Security will, however, be extraordinarily tight at the Stadium today. No large bags will be allowed in and according to the school's website, searches of everyone and everything entering the stadium will be "more deliberate and thorough" than ever before.
An estimated 100,000 are expected to pack the stadium and everyone's been asked to wear blue. That's the color symbolizing the efforts to combat child abuse.