Anne Hathaway Occupies Wall Street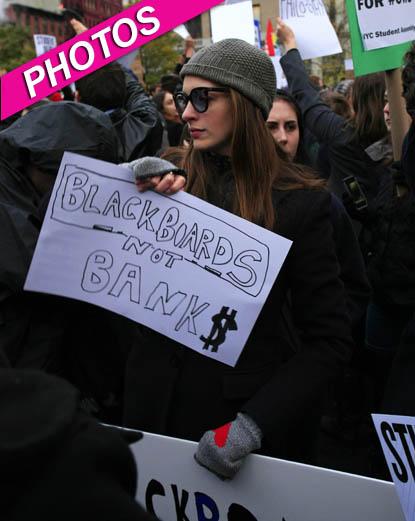 A-list beauty Anne Hathaway has occupied Wall Street.
The 29-year-old, who's slated to play Catwoman in The Dark Knight Rises, joined her boyfriend Adam Shulman in the anti-corporate demonstration at Union Square in Manhattan on Thursday afternoon, and RadarOnline.com has the photos.
The star, who's reported to be worth $58 million, carried a sign that read, "Blackboards Not Banks," while marching down the street with demonstrators.
Article continues below advertisement
She dressed way down for the outing, blending in with a beanie, dark glasses and a black jacket.
Since Occupy Wall Street got underway two months ago, several politically active celebrities have leant their fame to support the movement, which is taking over the world.
Russell Brand, Susan Sarandon, Tim Robbins, Russell Simmons, Kanye West and Penn Badgley have all been visible at the demonstration that has been turning ugly the past few days.
Thousands took to the streets Thursday, targeting police as the enemy, complaining that crowd control tactics were excessively heavy handed and curbing their right to free speech.
At least 300 people were arrested and five charged with assaulting police officers.
RELATED STORIES:
Anne Hathaway Talking Marriage With Adam Shulman