Exclusive
Anthony Weiner Feared He'd Get Caught: 'The Eva Longoria Thing Freaked Out My Wife'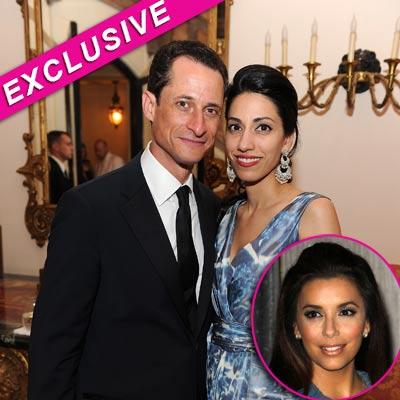 By Amber Goodhand - RadarOnline.com Reporter
A woman always knows.
Former Congressman Anthony Weiner's wife "warned" him he better not get caught up in an online scandal like actress Eva Longoria and ex-husband Tony Parker, RadarOnline.com has exclusively learned.
According to a source close to one of Weiner's online mistress, Traci Nobles, he expressed concern to her that his wife, Huma Abedin, had become increasingly nosy after it was revealed that Longoria's husband had cheated on her with women through Facebook.
Article continues below advertisement
"I'm swearing off fb Facebook for a while," Weiner wrote to Nobles in a November, 2010 conversation obtained by RadarOnline.com.
"You see the news about Parker getting caught, as in Eva's Parker? The whole Eva Longoria thing freaked out my wife."
"OMG, I totally thought about that, and you. did u get busted??" Nobles asked him.
"She said whatever I'm doing needs to stop, weird no? Yeah, not sure, but wife may have seen our messages/photos and she asked me to stop," Weiner admitted.
After filing for divorce, Longoria said she found hundreds of text messages on Parker's phone - some from the wife of one of his San Antonio Spurs teammates - and earlier in their marriage said he cheated on her and kept in touch with the woman through Facebook.
"Anthony told Traci that when the Eva and Tony stuff came out, his wife warned him that he better not get caught up in anything similar," the source exclusively told RadarOnline.com.
Article continues below advertisement