VIDEO: Anthony Weiner Resigns From Congress Amid Sexting Scandal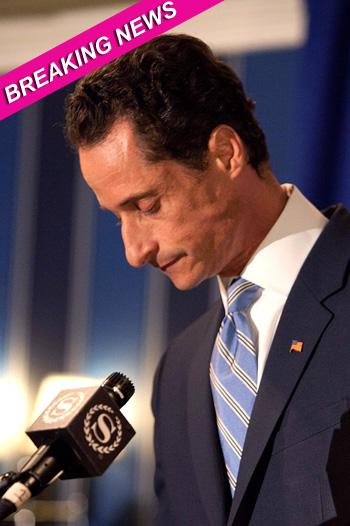 RadarOnline.com Staff Reporter
In an melancholy press conference Thursday Anthony Weiner resigned from his congressional seat telling reporters: "I am here today again to apologize for the personal mistakes I have made and the embarrassment I have caused. I make this apology to my constituents and my neighbors, but I make it particularly to my wife, Huma.
Article continues below advertisement
"I had hoped to be able to continue the work that the citizens of my district elected me to do. To fight for the middle class and for those struggling to make it. Unfortunately the distraction that I have created has made that impossible.
"So today I am announcing my resignation from congress, so my colleagues can get back to work, my neighbors can choose a new representative and most importantly that my wife and I can continue to heal from the damage I have caused."
Weiner was then interrupted by a heckler shouting "Are you more than 7 inches?" which caused him to pause in his speech.
He continued: "To repeat -- most importantly so that I can continue to heal from the damage I have caused."
Weiner thanked his staffers, who were packing up boxes in his Washington, DC office Thursday morning, according to the New York Times.
"They're young people who are not paid much, they are people who worked very long and very hard hours."
Article continues below advertisement
radar_embed service=5min.com src=" http://pshared.5min.com/Scripts/PlayerSeed.js?sid=1126&width=665&height=360&playList=517712913&sequential=1&shuffle=0"
Weiner ended by thanking his family, and again spoke about his wife: "Of course I want to express my gratitude to my family to my mother and father who instilled in me the values that have carried me this far. My brother Jason and my wife Huma, who has stood with me this entire difficult period and to who I owe so very much."
Prior to Weiner's public statement, the New York Times reported the disgraced Democrat made the decision to resign after talking with his wife, Huma Abedin, a longtime aide to Secretary of State Hillary Rodham Clinton who is pregnant with his child. Abedin returned early Wednesday from a diplomatic mission in African with Secretary Clinton.
Calls for the seven-term Congressman's resignation had been growing since the scandal first broke in early June, and Weiner faced an ethics investigation "to determine whether any official resources were used or any other violation of House rules," according to House Democratic Leader Nancy Pelosi.
Article continues below advertisement
The paper reported that Democratic leaders Thursday were priming to meet and "discuss whether to strip the 46-year-old Congressman of his committee assignments, a blow which would severely damage his effectiveness."
Weiner -- a Democrat who represents the Brooklyn and Queens area of New York-- initially denied that he had sent a lewd photo to a college student in Seattle via Twitter in May. Then on Monday, June 6, he held a news conference in which he admitted he had lied and had in fact engaged in "several inappropriate" electronic relationships with six women over three years.
"I take full responsibility for my actions," Weiner said in his news conference. "The picture was of me, and I sent it."
In a joint investigation, RadarOnline.com and Star first revealed that Weiner's first steamy Facebook exchange with one of the women -- 40-year-old Las Vegas blackjack dealer Lisa Weiss -- came just TWO MONTHS after he married Huma Abedin in Long Island in a lavish ceremony officiated by former President Bill Clinton.
Article continues below advertisement
Three hours later, he took the floor of Congress during a debate on providing funding to the department of defense, according to official documents.
On April 16, a time when the House of Representatives discussed the constitutional authority statement, Rep. Weiner asked Weiss when she was going to send him nude images of herself so he could "jerk off."
"Go into the bathroom mirror now," he wrote, encouraging her to snap lewd images and forward them to him. "I'm like a rock," he added.
Article continues below advertisement
During the height of the federal government shut down crisis, on April 7, Rep. Weiner also sexted Weiss and bemoaned how he hadn't been able to share explicit messages with her because he'd been "punching the speaker" -- a reference to political foe John Boehner, the speaker of the House.
That same night, Weiner appeared on MSNBC's The Rachel Maddow Show in a live interview from the steps of Capitol Hill.