VIDEO: Tina Fey Returns To SNL As Sarah Palin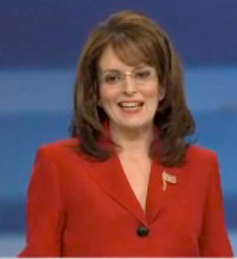 Tina Fey lit up this week's Saturday Night Live, even reviving her classic Sarah Palin impersonation.
The six months-pregnant creator and star of 30 Rock appeared as Palin in a hilarious send-up of an upcoming 2012 Republican Presidential debate.
With Bill Hader playing moderator Shep Smith, Fey is LOL funny saying she's going to bone up on the situation in the Middle East by appearing in 'Hangover 3' which is going to be filmed there.
Article continues below advertisement
But she and political rival Donald Trump made nice.
VIDEO: Helen Mirren's 'Magical Bosom' Stars On SNL
With Darrell Hammond portraying The Donald, he said, "Sarah Palin, I like you. If you want to be my Vice President, all you have to do is sell more chili than NeNe Leakes on a hot summer day."
Now that's a battle we'd love to see on The Celebrity Apprentice!
You can watch the entire skit here on RadarOnline.com.