Surveillance Video Emerges Of Killer Hiding A Body In A Freezer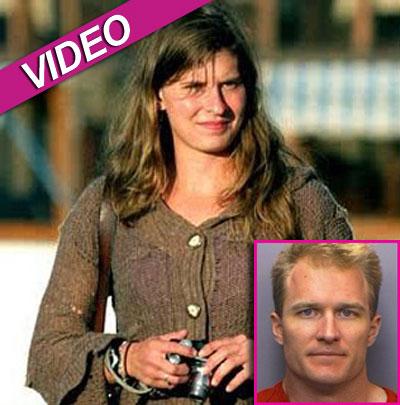 A Colorado woman who was abducted, assaulted, strangled and doused in bleach is now recovering after spending five weeks in a coma, RadarOnline.com has learned.
Despite her lucky escape, the sheer magnitude of the danger Lydia Tillman was in is only now becoming shockingly clear with the release of surveillance video showing her attacker stashing another body in a freezer months earlier, ABCNews.com and 20/20 reported.
Article continues below advertisement
Tillman's near-fatal ordeal began when she met a hunky blonde stranger at a 4th of July fireworks celebration in Fort Collins, Colorado, and took him back to her apartment, where he turned from a hot date into a potential killer.
Travis Forbes sexually assaulted and strangled the 30-year-old, beat her head, shattered her jaw, and assuming she was dead, doused her with bleach and set fire to her apartment. Tillman miraculously managed to jump out of a second story window and run to an ambulance that had just arrived, then the ordeal overcame her and she collapsed from a stroke and lay in a coma for more than a month.
What she didn't know until she woke up was that police were already building a case against the 31-year-old entrepreneur in connection with the disappearance of 19-year-old Kenia Monge, after the girl's step-dad found a text message from him on her cell.
Forbes claims that he offered her a ride home on April 1 after finding her drunk and incoherent near a nightclub, but that the teen wandered off when they stopped at a gas station for cigarettes.
Article continues below advertisement
Petit Family Killer Joshua Komisarjevsky 'Was A Great Dad,' Reveals His Ex-Girlfriend
When a search of his home increased suspicions, police pulled surveillance tape of a bakery that he rented space at and found footage of him carting a cooler and putting it inside a freezer, other film showed him holding a bottle of bleach and a rag.
While police continued to build a case against the suspected killer, he went on to lure Tillman and leave her so swollen and bruised that the only way her family could recognize her was by a ring and a tattoo on her leg.
The use of bleach in her attack led to a DNA match and the arrest of Forbes, who confessed to that crime and the killing of Monge, whose body he stored in the cooler and then buried in a field.
He was arrested before Tillman even woke up from her coma, and sentenced on September 27.
The full story can be seen on Caught in the Act a 20/20 special on ABC, Friday at 9 p.m. ET.