Hillary Adams: 'I Think My Father Has Been Punished Enough By Release Of Tape'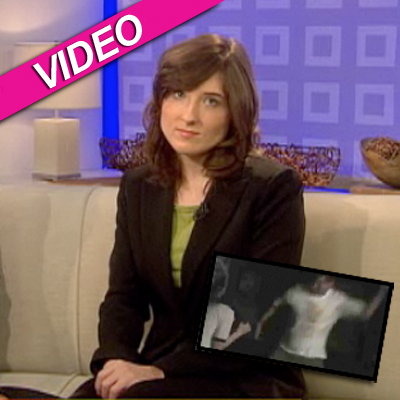 A disturbing 7-year-old video of an Texas judge mercilessly beating his 16-year-old daughter with a strap is burning up the web, and on Thursday, the daughter, now 23, and her mother sat down with The Today Show to discuss it in depth.
In the clip, we see Aransas County Court-at-Law Judge William Adams chastising his cerebral palsy-stricken teen daughter, Hillary Adams, for downloading music illegally on his computer. (Hillary secretly set up a tape in her room to document the abuse, and last week posted the seven-plus minute video to site Reddit; since it landed on Youtube, it's received more than 2.2 million views in less than a week.)
Article continues below advertisement
On Thursday, she told Matt Lauer, "I think my father has been punished enough just by seeing this go public like this, and I think he just really needs help and rehabilitation. I regret that some of my friends and some people close to me have kind of had trouble with this, and of course, I regret that it's my own father.
"I'm having very mixed feelings about that, but at the same time people are telling me that I did the right thing, so there have been definitely different emotions.''
In the disturbing tape, the judge commands Hillary to "Bend over the bed!'' and wallops her on the legs, arms and behind with the implement as she screams.
On the clip, Hillary's mother Hallie also smacks her with the device and tells her to "Take it, like a grown woman!''
Hallie, who divorced the judge in 2007, said she was overtaken by her husband's domineering persona. (Hillary said she and her mother are "very close now" and she's forgiven her "because she knows everything that happened.'')
Article continues below advertisement
Hallie told Lauer she "lived in an environment of dysfunction, and it steadily got worse; I was completely brainwashed and controlled. I did every single thing that he did. When I leave the room, he's telling me what to say, what to do.''
The judge, responding to the controversy in an interview with Corpus Christi's KZTV said the tape "looks worse than it is.
"In my mind, I haven't done anything wrong other than discipline my child after she was caught stealing,'' the judge said. "I did lose my temper, but I have since apologized. It looks worse than it is. There is a story. It will come out in due time.''
Hillary said she waited seven years to release the tape "because back then, I was still a minor and living under his roof ... I don't know what would've happened to me and my mother and my little sister. So waiting until today, seven years later, was about me being able to pull away and distance myself from the consequences."
Hillary said when she told her father about the existence of the tape, "He didn't seem to think anything of it, and basically dared me to post it.''
Article continues below advertisement
Watch the video on RadarOnline.com
Authorities in Texas are investigating the video at the district attorney's request; since the video is 7-years-old, Judge Adams likely can't be charged criminally in the matter since there's a 5-year statute of limitations for charges of bodily injury to a child.
The judge has left his hometown of Rockport, Texas and his scheduled hearings have been cancelled, according to the court.