Michael Lohan Stays In Jail, Denied Bail In Domestic Violence Case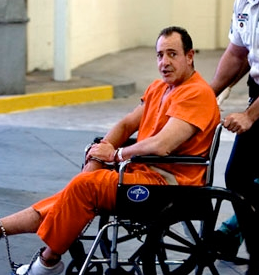 Michael Lohan was denied bail in a Florida courtroom Saturday morning. An angry judge refused to let Lindsay's dad out of jail before his trial on domestic violence charges.
Lohan is being held in the Hillsborough County Jail. In handcuffs and in a wheelchair, he went before the judge via a monitor from the jail.
As RadarOnline.com previously reported, Lohan has been charged with two violations of a domestic violence injunction and also of obstruction of an officer without violence.
Article continues below advertisement
It's all in connection with allegations from his on-again-off-again girlfriend Kate Major that he beat her. Lohan was ordered not to have any contact with Kate pending his trial, is alleged to have violated that order, was arrested again and fell 34 feet from a balcony while trying to evade the cops!
Lohan's attorney argued for bail this morning, saying Michael needed to be at his daughter's next court appearance in Los Angeles on Wednesday and he has a Celebrity Boxing match upcoming.