Herman Cain's Accuser Sharon Bialek On Full-On Media Rampage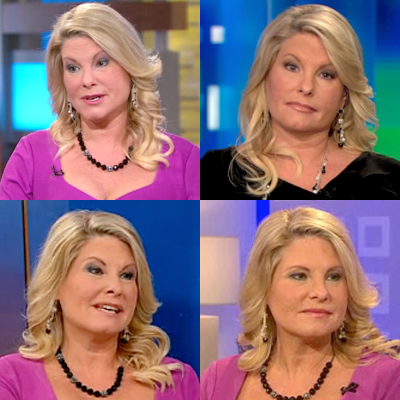 Not since Charlie Sheen's meltdown last spring have we seen the same face on every network in such a short time span.
Chicago native Sharon Bialek -- the fourth woman who's claiming Republican presidential hopeful Herman Cain sexually harassed her -- sat down with ... just about everyone in the past day, reiterating her hope for Cain to come forward and admit his past indiscretions.
With her attorney Gloria Allred by her side, Bialek, who's physically in New York Tuesday, appeared on CNN, The Today Show, CBS Early Show and Good Morning America Tuesday morning. (She appeared on Piers Morgan's show Monday night.)
Article continues below advertisement
Here are some sound bites she's provided in her channel-to-channel appearances:
Bialek told CNN her biggest concern before coming public was how it would impact her 13-year-old son; she said when she asked her son his thoughts on the matter, he advised her to "do the right thing" and "tell on" Cain -- "If my son is saying it, I want to be the role model for him."
Then, Bialek appeared on The Today Show, where she explained why she didn't come forward with her claims back in '97.
"When this happened, the first reaction is, you're embarrassed," Bialek said. "Number 2, I had a boyfriend at the time. We did discuss it briefly, but we didn't share details. He did say, 'It's going to be one of those he-said, she-said things. You've got to remember this is the late '90s and unfortunately we're still not where we should be in these types of cases.''
Bialek then told CBS Early Show she wanted to help Cain in coming forward with her story now: "I wanted to give him a platform to come clean, to tell the truth and he still hasn't done it and it's really a shame because he could have."
Article continues below advertisement
Watch the video on RadarOnline.com
Over at ABC, she explained to George Stephanopoulos she "was not paid to come forward, nor was I promised any employment.
"Nothing at all," she said on Good Morning America. "I'm just doing this because it's the right thing to do."
As we first reported, Bialek's broke her silence in a news conference in New York on Monday that when she came to Cain for professional help in 1997, he "suddenly reached over and he put his hand on my leg under my skirt and reached for my genitals."