Dream Big! Autistic Boy Overcomes Adversity To Become Rapper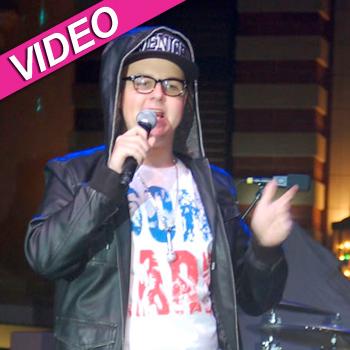 It's a heartwarming and inspiring story of a young man overcoming adversity and hardship.
Rio Wyles is fast becoming the next big thing in rap, and like many he's had to put in hard work and plenty of sweat to break through in the highly competitive music world — but what makes Rio's story so inspiring is that he was diagnosed with autism as a young child and suffered a profound loss of language at age three-and-a-half.
Article continues below advertisement
The language slowly came back, but in an odd ritualistic, nonsensical way, causing children to shun him throughout his childhood and those close to him to worry that he would never be able to fully live an independent life.
However, some saw the greatness in Rio, with late R&B legend, Carl Anderson commenting, "You know, Rio has music in his head all the time."
And, indeed he does. In fact, the music that Rio has always had spinning around in his head, ultimately proved key to his learning to read - which he taught himself to do at age nine, courtesy of the lyrics of all his favorite songs. Even more importantly however, music afforded Rio a platform from which he could learn to relate to, and communicate with his peers - going on to make relationships and friendships through a shared passion for music.
And so began Rio's career as a writer and rapper - creating lyrics that quickly progressed from him sharing his everyday experiences, to something much deeper and greater - such as: "You know in life things happen, doesn't seem what it seems. Even in dreams obstacles may appear... One day you figure it all out what your life was all about." However, Rio upped the ante yet again at the tender age of eleven,when he started to compose music too.
Article continues below advertisement
Rio announced his intention to work in the music business while browsing through the bins at Tower Records.
Admonished by all the doctors to adjust her expectations for him, his mom reluctantly asked, "Do you want to work here?" knowing even that would be an impossibility. However, Rio shot his mom a look and quickly set her straight with a clarity she'd never seen before. "I want to be a rapper and own my own label. You gotta' dream bigger than that, Mom."
And now, this M.C. known as SoulShocka is receiving standing ovations wherever he performs and in January of 2011 he received The Genius of Autism Award at Carnegie Hall. His recording career has gotten off to a great start as well with a collaboration with Rev Run, and work with Dave Stewart, having won the Stand up to Cancer challenge.
As Rio would say, "Check it."
Watch Rio's winning Stand Up To Cancer video here on RadarOnline.com, and learn more about this amazing young man on the PASW music management website.
You can also download SoulShocka from itunes, 50 percent of net profits for November will go to Autism Speaks.