Prairie Dogs Get Their Groove On And Show Off Their Hottest Moves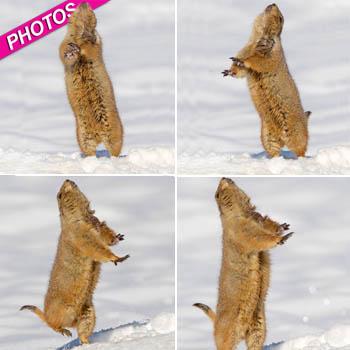 By Debbie Emery - Radar Reporter
Animal Planet met Dancing With The Stars when a quick-pawed prairie dog showed off his hottest moves, and RadarOnline.com has photos of the adorable critter.
The furry performance was captured in Boulder, Colorado by photographer Rob Palmer from nearby Littleton, who was shooting the rodents in the snow.
Prairie dogs, a species of ground squirrel, love to pop up and catch some rays when the sun shines and an especially warm day put an added spring into this guy's step.
Article continues below advertisement
While this little black-tailed creature looks like he's just happily getting his groove on, Palmer explained that he could be sending a message to his furry pals.
"They like to talk to each other and sometimes make an alarm call if a predator is close. This one probably saw a raptor and sent out a warning," he revealed.
On another occasion, a pack of prairie dogs had a dance party when they displayed spectacular team work waltzing together on a soil mound, and when others saw how much fun they were having they sprung up from the ground to take part and go for a twirl.