Bali Bikini Babe! Paris Hilton Horses Around, Strips Down For Some Monkey Business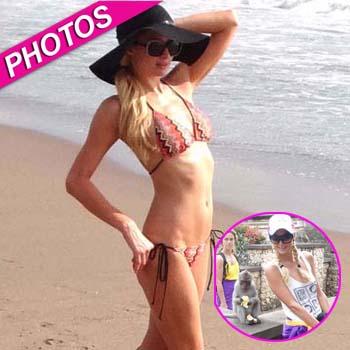 Leave it to Paris Hilton to mix business with pleasure!
The smoking hot heiress stripped down into a skimpy bikini and hit the picturesque beaches of Bali this week with a few of her equally gorgeous pals – including a stallion and a monkey – and RadarOnline.com has the photos.
While traveling around the world promoting her Paris Hilton purse, shoe, handbag and fragrance brands, the blonde bombshell found some time for a little time on the beaches of Bali to pose for photos in her bikini.
Article continues below advertisement
While showing off her flawless and rock hard bikini bod, Paris encountered a smoking hot guy mounted on a stallion.
A perfect combination!
She also spent some time with a very lucky primate, who enjoyed being fed bananas by the reality show star.
The 30-year-old animal lover, who once confessed to owning 17 dogs at the same time, also found some time in her hectic schedule for a little canine love.
Hilton fed a "starving stray dog" she discovered on the beach last Friday, sharing her good deed in a series of tweets.
"It made me so sad," she wrote. "So we ordered him a filet mignon. He loved it!"
"This poor stray dog is breaking my heart," she later tweeted. "He is so sweet. I wish I could take him home with me."
"All animals are living, breathing souls with hearts and feelings just like us. And they should be treated that way."
"The cruel treatment of these stray dogs has upset me so much that I can't sleep. I'm researching the internet to see what I can do to help."