10 Celebs Who Won't Be Celebrating Thanksgiving With Mariah Carey & Nick Cannon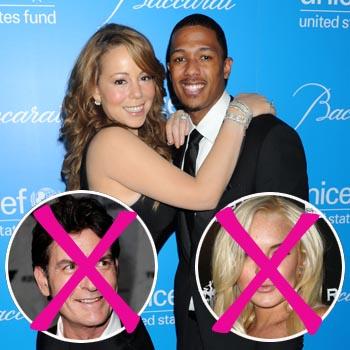 Nick Cannon got into the holiday spirit on Monday, posting a list of 10 Celebs You Do Not Want To Invite To Thanksgiving Dinner on his blog – and RadarOnline.com has the hilarious highlights.
Lindsay Lohan, Charlie Sheen, Gallagher, The Duggar Family, Man Vs. Food's Adam Richman, Insane Clown Posse, Jeff Probst, Michaele Salahi and Neal Schon, Gillian Michaels and Dr. Conrad Murray were all on Cannon's blacklist.
Article continues below advertisement
"Unless your family celebrates Thanksgiving in a nightclub with its own doorman to toss her out when she gets out of hand...might be better to just let her celebrate this holiday elsewhere," Mr. Carey blogged about Lindsay Lohan.
On party boy Sheen he explained, "He'd just snort all the salt, drink grandpa's 50-year-old scotch, call everyone 'trolls' and do a live podcast of the event from dining room table."