Naked Woman Poses For Sick Photo Shoot In The Body Of A Dead Horse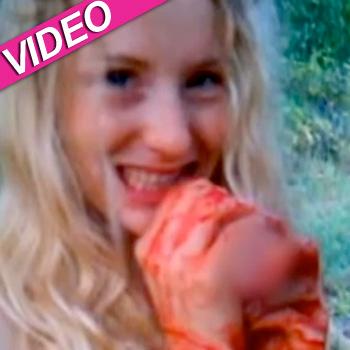 This takes sick, twisted and bizarre to a whole new level.
A woman took the spirit of Halloween a little too far when she stripped down and crawled into the carcass of a dead horse, then had her boyfriend film the disturbing show and post it on the Internet -- and RadarOnline.com has video of the highly disturbing "performance."
The 21-year-old from near Portland, Oregon told Washington County Sheriff officers that she wanted to "feel at one" with a horse, reported KOINLocal6.com.
Article continues below advertisement
The grotesque photos look like a scene out of horror classic Carrie as the unnamed 5'6" woman posed dripping in warm blood as she stands over the poor animal with it's insides lying splayed on the ground.
"At some point in your career you say, 'Yeah, I've seen a lot of bad stuff,' then you see this kind of picture and you realize maybe you haven't seen everything," said Washington County Sergeant Dave Thompson.
In another startling image, the girl and her boyfriend appear to hold the horse's heart, while in a further photo they have meat up to their mouths as if to eat it.
The couple had been looking after the elderly 32-year-old horse that they claimed was in declining health, and wanting to put it down and eat the meat, they killed it with a single shot from a high-powered rifle then the woman climbed inside the body.
Article continues below advertisement
After receiving death threats and being called everything from a devil worshiper to a pervert, the woman's mother said she just wants the incident to go away.
Because the horse was neither abused nor tortured, and was killed in a humane manner, police say they can't charge the couple with any crime. It's meat was reportedly harvested and eaten after it's death.
If you so chose, you can watch the sick, bizarre and twisted video here on RadarOnline.com.