Exclusive
Michael Lohan Being Held In Solitary Confinement, Making Collect Calls - Hear The Audio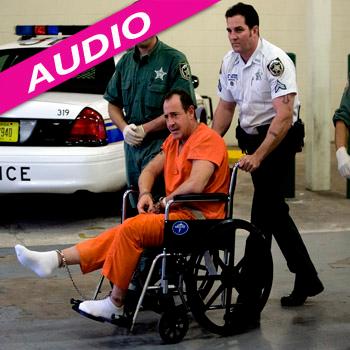 Article continues below advertisement
Lindsay's father was actually calling Kim Granatelle, from The Real Housewives of New Jersey, who Michael was spotted smooching with over the summer. She didn't actually answer the phone and let the call go to her voicemail.
"Kim has spoken with Michael who told her he was in a lot of pain," said Kim's friend Tom Murro who shared the recording with RadarOnline.com said.
Michael, 51, was arrested last week for violating a temporary restraining order taken out against him by Kate Major, his on-again off-again girlfriend, and is going to remain in jail until his November 9 hearing.
A jail spokesperson gave RadarOnline.com some details about his incarceration. "His typical meals are scrambled eggs, ham, toast and milk for breakfast; a bologna sandwich and milk for lunch, and a chicken patty and pudding or apple sauce for dinner."
In an ironic twist of fate, Michael and his daughter Lindsay may be in jail at the same time, albeit on different coasts.
Lindsay was sentenced by Judge Stephanie Sautner to 30 days in jail in Los Angeles and she must check in no later than November 9.