Matt Damon: Bullfights Should Be Stopped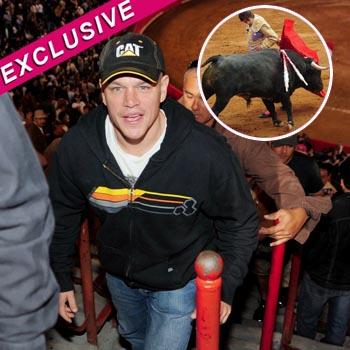 After RadarOnline.com published photos of Matt Damon attending a bullfight in Mexico last Sunday, we knew that PETA (People for the Ethical Treatment of Animals) would be taking the actor to task.
But Damon's no dummy. He contacted PETA himself.
"We wrote to Matt Damon as soon as pictures of him at a Mexican bullfight surfaced—and within 24 hours, he personally telephoned PETA Vice President Lisa Lange to correct the false impression that he had given," PETA's Jane Dollinger tells RadarOnline.com.
Article continues below advertisement
"Matt said that he went to the bullfight believing that bullfights should be stopped but felt that he should see the cruelty for himself while he was in Mexico. He said that seeing with his own eyes what these tormented animals go through only reinforced an already strongly held belief that bullfights should be relegated to the history books.
"He also said that he was upset to think that his attendance was in any way construed to be an endorsement of such a barbaric activity."