LIVE: MLB Stars Jose Canseco & Lenny Dykstra Face-Off In Pre-Boxing Bout Media Conference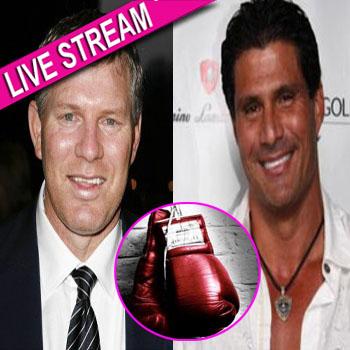 Lenny Dykstra will face his MLB nemesis Jose Canseco at a Beverly Hills press conference from 12 p.m. PT — and RadarOnline.com is live streaming.
The pair are scheduled to fight each other in a Pay Per View boxing event in Hollywood, Calif., on Saturday night. Earlier this week, the troubled Dykstra vowed to "destroy Jose Canseco" for ruining his baseball career.
According to the fight promoter Alki David, the founder of FilmOn.com, his security team has taken "additional protective measures to ensure that no one is hurt this time."
Article continues below advertisement
At a previous such event in Beverly Hills, Joey Buttafuco and Amy Fisher's husband Lou Ballera got into a bare-knuckle punch up and Joey's lip was split leaving the Long Island Casanova nursing his pride and vowing revenge.
Saturday's live event is available on Cable and Internet Pay Per View. Check your local guides.
RELATED STORIES:
Lenny Dykstra Vows To 'Destroy Jose Canseco' In Celebrity Boxing Match