Lindsay Lohan Sentenced To 30 Days In Jail; Faces More Time If She Keeps Messing Up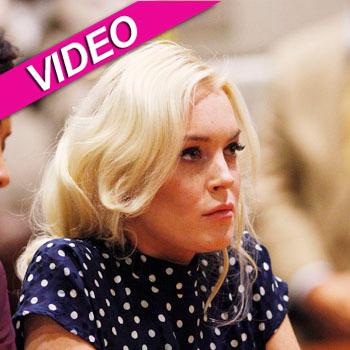 Lindsay Lohan must report to the county jail by November 9th to serve 30-days behind bars.
Los Angeles Judge Stephanie Sautner made that ruling Wednesday after finding that the Mean Girls star, 25, did violate the terms of her probation stemming from her shoplifting conviction.
Prior to the judge making her ruling, Lohan -- wearing a polka dot dress with her hair pulled back in court -- admitted in court that she did in fact violate the terms of her probation.
Article continues below advertisement
The judge noted that Lohan's attorney Shawn Holley made a plea for the court not to send Lindsay back to jail; however, the judge decided in favor of jail time.
Judge Sautner sentenced the actress to 300 days in the county jail. However, the judge stayed most of that time – but said Lindsay must serve 30 days behind bars.
The judge said she must surrender by November 9th in person to the women's jail and also said she was not eligible for house arrest or electronic monitoring or any other early release.
When she gets out of jail, the judge told Lindsay she must report on the next business day to probation department.
The judge said LiLo must return to court on December 14 for a progress report.
Before that next hearing, the judge said Lindsay must service 12 days of community at the county morgue and attend four psychological therapy sessions of 45 minutes each.
If she is found to in compliance before her next hearing, the 270 remaining days on her sentence will be stayed until January 17th.
Article continues below advertisement
The judge then set a series of future court dates where Lindsay must continue to be in compliance with additional requirements as set forth by the judge. If she's found not to be in compliance, she will then have to serve the remaining days of her sentence.
Lindsay Lohan's Playboy Shoot 'Went Well', Says Mom Dina
The judge asked Lindsay if she understood and she replied: "Yes your honor, I do."
The judge also said she can't leave the country or state without approval.