Exclusive
Mariah Yeater's Lawyers: We Want Justin Bieber To Take DNA Test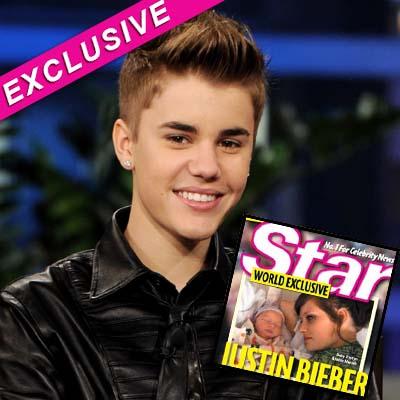 Lawyers for the 20-year-old California woman claiming Justin Bieber's the father of her 3-month-old son have responded to comments from the Baby singer's reps distancing their client from the paternity suit he's facing, in this exclusive statement obtained by Star magazine.
Lance Rogers and Matthew Pare told Star exclusively, "Mariah Yeater is pursuing a modest and rightful claim. There is credible evidence that Justin Bieber is in fact the father of her baby. The evidence will be revealed in court."
Article continues below advertisement
The attorneys reiterated that Yeater has not made any outrageous demands of the 17-year-old singer, but rather is going through the proper protocol expected in a situation as such.
"She is not seeking exorbitant compensation," Rogers and Pare told Star exclusively. "She merely requests that Justin Bieber provide a DNA sample to verify that he is the father of Mariah Yeater's baby, and if so, to help provide child support as required by California law."
In the wake of Star's exclusive report detailing the paternity suit, Bieber's camp told ABC News, "It's sad that someone would fabricate, malicious, defamatory and demonstrably false claims" and that they would "vigorously pursue all available legal remedies to defend and protect Justin against these allegations."
While the Baby singer himself been out plenty since Star broke the exclusive news -- appearing on Dancing with the Stars, On Air with Ryan Seacrest and tweeting he was going to "ignore the rumors" -- he has not yet publicly delved into the details of the allegations, something Yeater's attorneys addressed in their exclusive statement to Star.
Article continues below advertisement
"It is noteworthy that Justin Bieber himself has not denied the fundamental fact that he had unprotected sex with Mariah Yeater following a concert in Los Angeles.
"If Justin Bieber is willing to voluntarily undergo a paternity test Ms. Yeater welcomes such cooperation and will be happy to resolve this issue in a less public manner. We call upon Justin Bieber and his attorneys to reach out to resolve this issue in a reasonable manner."
As we previously reported, Yeater claims in court papers her roll-in-the-hay with the teen heartthrob was "brief, lasting only approximately 30 seconds," backstage at the Staples Center following an October 2010 show. She added Bieber "was clearly embarrassed about how the sex did not last very long."
The tryst, she claims, produced her son Tristyn Anthony Markhouse Yeater, who was born on July 6.
In the meantime, for up-to-the-minute updates on Bieber and the paternity suit, keep it right here on RadarOnline.com, and pick up a copy of Star -- on newsstands now.