Exclusive
Justin Bieber Paternity Lawsuit – Read The Court Papers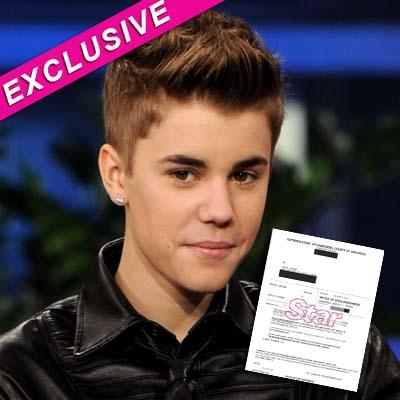 Senior Executive Editor, Star magazine
Editor In Chief, Star magazine
Pop star Justin Bieber promised a 20-year-old California woman that he would invite her to attend his future concerts after they had sex, according to court papers she filed charging that Bieber is the father of her three-month-old son.
Mariah Yeater claims in the sensational court documents that Bieber, 17, is the father of tiny Tristyn Anthony Markhouse Yeater, who was born on July 6. She is asking for a paternity test and financial support.
Article continues below advertisement
Star magazine broke the story of the shocking lawsuit in its current issue and obtained the court document, which you can read here on RadarOnline.com.
EXCLUSIVE DOCUMENTS: Read The Paternity Lawsuit Against Justin Bieber
As Star magazine exclusively reported, Yeater is asking a California court to force Bieber to "undergo a paternity test to scientifically confirm that he is in fact that father of my baby" and "provide adequate support for my baby."
Bieber's representatives vigorously deny the woman's claims but a court hearing has been scheduled for December 15.
In the court filing, obtained by Star, Mariah alleged Bieber told her "he would give me his phone number after we had sex and told me he wanted me to be at his future concerts too and he would give me backstage passes."
She said the sexual intercourse between the pair was "brief, lasting only approximately 30 seconds."
Article continues below advertisement
First Photo Of Justin Bieber's Alleged Baby
Mariah told the story of her alleged encounter with Bieber in an affadavit sworn under penalty of perjury.
She wrote that when Justin was done, "he was clearly embarrassed about how the sex did not last very long. He immediately put on his clothes and blew me off when I asked about seeing him again.
"I asked him for his private phone number, but he insisted on taking my phone number.
Woman Suing Justin Bieber For Paternity -- Read Her Shocking Claims
"We had no paper or anything to write it down on, and Justin Bieber was clearly not interested in getting his cell phone or any paper. He said he would just remember the number, which I told him."
As Star previously reported, via RadarOnline.com, Mariah said she tried to contact Bieber through his representatives to inform them she was pregnant.