Herman Cain's Alleged Mistress Not Surprised He's Denying Longtime Fling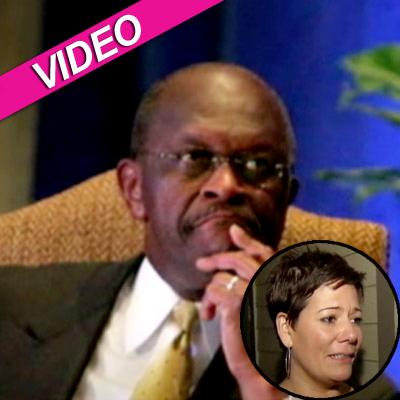 A day after publicly declaring she carried on an affair for 13 years with Republican presidential candidate Herman Cain, a Georgia single mother named Ginger White said she's not shocked the former Godfather's Pizza president and chief executive officer is denying he ever bedded her.
"I can't image him actually confirming," she told ABC News' Atlanta affiliate WSB-TV Monday night. "It's the name of the game, I guess."
Article continues below advertisement
The charismatic Cain shot down White's accusations while chatting with CNN's Wolf Blitzer earlier Monday.
"I acknowledge that I've known her for about that period of time, but the accusation that I had a 13-year affair with her? No, no, no," said Cain, who is an ordained Baptist minister.
Asked if her touchy financial situation might have inspired her to make the claims -- White this month faced eviction from her apartment  -- she said she  couldn't imagine anyone coming out and lying about this.
"Who would want this? It's really not been fun," White said.
Watch the video on RadarOnline.com
On Monday, White told WAGA-TV Cain often put her up at fancy hotels during his engagements, acknowledging she'd been involved in "a very inappropriate situation" with the man, who's been married 43 years to wife Gloria.
To back up her claims, White -- the fifth woman to accuse Cain of inappropriate dealings with the fairer sex -- gave the station documentation of their contact, including a series of late night voice mails and text messages.