David Letterman To Herman Cain: 'I'm No Stranger To Sexual Scandal'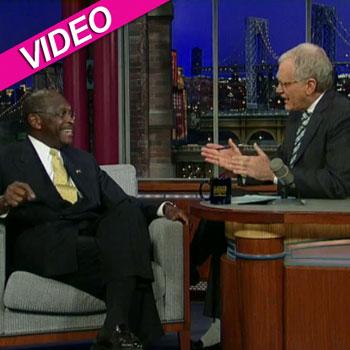 The biggest laugh in David Letterman's interview with Presidential wannabe Herman Cain Friday night came at the host's own expense.
Trying to get the Republican candidate to open up about the accusations of sexual harassment that have been lodged against him, Dave offered up, "I'm no stranger to sexual scandal," which got a roar of approval from the audience.
Letterman was referring to the 2009 blackmail attempt by TV producer Joe Halderman, who was charged with trying to extort $2 million from the married Letterman over his affair with Late Show assistant Stephanie Birkitt. Halderman later pleaded guilty to attempted grand larceny and was sentenced to six months in jail and five years probation.
Article continues below advertisement
Letterman addressed the situation during a monologue, along with his uncertainty if his wife would ever forgive him. Two years later, they're still together.
Unfortunately he wasn't as successful at getting Cain to address any of the accusations against him other than to say all the woman are lying, all the accusations are "false."
RELATED STORIES:
Gloria Allred Holding Press Conference With Witness In Herman Cain Sex Scandal