Ex-Con Couple Goes From Death Row To Walking Down The Aisle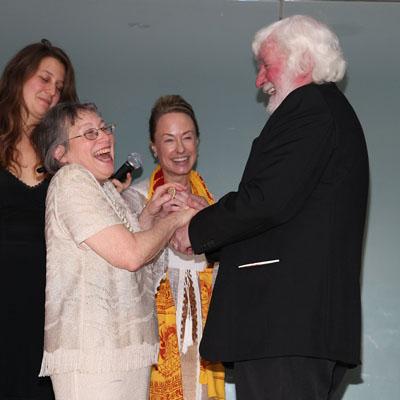 By Debbie Emery - Radar Reporter
Sharing common experiences is a must for any successful couple, and for Sonia Jacobs and Peter Pringle the biggest thing they have in common is surviving death row, RadarOnline.com has learned.
The ex-convict couple was married earlier this month after they each served 15 years on death row before both their convictions were overturned for the murders that they steadfastly denied doing, reported the New York Times.
Article continues below advertisement
"We have each lived a nightmare," revealed the bride just minutes before she tied the knot. "Now it's time to live our fairy tale."
Jacob's tragic story was told in the play "The Exonerated," and actresses who have played the dramatic role include Brooke Shields, Marlo Thomas and Amy Irving who were at the Manhattan wedding to witness her happy ending.
The gold dress and matching pearls that Jacobs, 64, wore on her wedding day were a far cry from the orange prison jumpsuit that she lived in while serving her sentence in Broward Correctional Institution, Florida, after being convicted of double murder in 1976.
A road trip to West Palm Beach ended with two police officers being shot dead on the side of the road, but Jacobs always maintained that she was asleep on the back seat of the car at the time of the shooting.
In 1981, the convict, who is known to friends as Sunny, had her sentence reduced to life and her conviction was finally overturned by appeal in 1992 after she had served a total of 17 years behind bars.
Article continues below advertisement
It was on a trip to Galway, Ireland, for an Amnesty International event in 1998 that the newlyweds first formed their unlikely bond.
"I was blown away by the horror of what had happened to her. I knew I had to speak to her," said Pringle, 73, who had served time in Portlaoise Prison in Ireland after being wrongly convicted of shooting two police officers during an armed robbery. The death penalty in Ireland was only upheld for special circumstances such as cop killings (that too has since been abolished) and the innocent man was ordered to be hanged.
When they met after winning their freedom there was an instant spark between the pair, who went for a "cleansing" swim together in Galway Bay, and stayed in touch as Jacobs went back home to Los Angeles.
After a long-distance romance, she finally took the plunge and moved to Ireland where she now teaches yoga and raises goats, chickens and ducks with her third husband.
RELATED STORIES:
West Memphis Three's Damien Echols' Enduring Love Affair: Married Woman While On Death Row