Lip Service: Woman Undergoes 100 Silicone Injections To Look Like Jessica Rabbit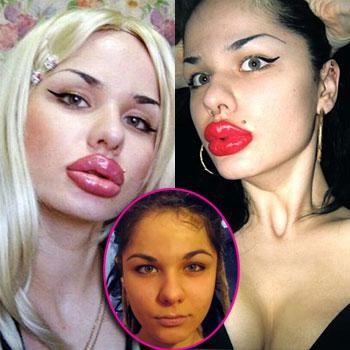 Meet Kristina Rei.
The 22-year-old St. Petersburg, Russia nail technician has spent more than $6,000 on 100 silicone injections to her lips, in hopes of resembling her favorite film heroine, Jessica Rabbit.
"I think I look fantastic and it makes me happy," Rei said. "Sometimes strangers shout names at me in the street -- like big lips -- but I don't care. I want to go more extreme. I want to look like a cartoon character.
Article continues below advertisement
"I am addicted to it -- I love it."
Rei said since she was 4 years old, she's wanted to have her lips enhanced. In Russia, TV advertisements for cosmetic surgery are common, she said, giving her the idea at a very young age. She got her first injection at 17, and hasn't looked back.
"My big lips have helped boost my confidence -- even my parents are happy for me," Rei said. "They really don't care about my appearance. Some of my friends have told me I shouldn't go any bigger, but I'm not satisfied yet."
Rei said that while childhood teasing over her looks might have sown the seeds for her to get plastic surgery, she's comfortable in her own skin, lips included.
"I know some people think I look ridiculous but I don't care," Rei said. "Sometimes I like the attention I get, like when people try to film me on their mobile phones. Some of the abuse has been hurtful ... but those people are idiots."
Rei said that "other than the way I look, my lips haven't had a big impact on my life, so I'm definitely not going to stop now," adding she feels her lips are "definitely too small at the moment."
Article continues below advertisement