Newborn Baby Gorilla Makes Her Debut At Chicago Zoo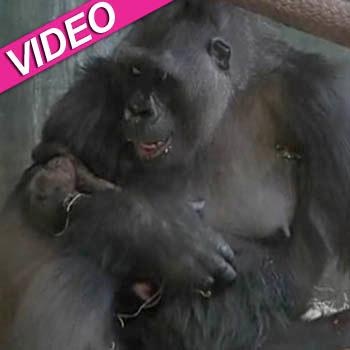 A little new arrival is a big hit at a Chicago zoo as a baby gorilla greeted the world for the first time on Tuesday, and RadarOnline.com has the adorable video of the miniature King Kong.
The as-yet unnamed girl is the first western lowland gorilla to be born at the windy city's Lincoln Park Zoo since 2005 and crowds rushed to her new home to see the bald baby ape, who was born last Thursday.
Article continues below advertisement
The new parents are first-time mom Bana, 15, and her mate, 22-year-old silverback Kwan, who "seems proud of his new offspring and has stayed protectively close to mother and baby," said a zoo official at the Regenstein Center for African Apes, according to a report from NBCChicago.com.
Lincoln Zoo has became famous for raising gorillas and the latest baby is the 49th to be born there over the years.