Anne Hathaway Celebrates Engagement & Blinging Ring With PDA At The Park!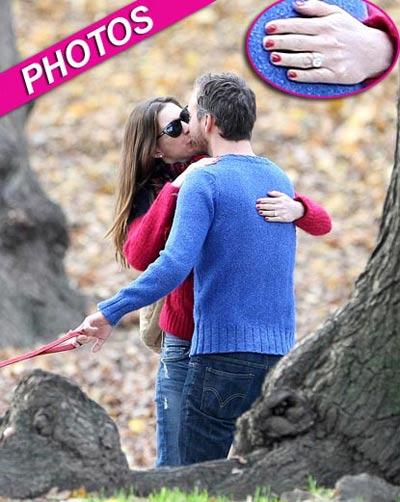 By Leah Ornstein - Radar Style & Beauty Editor
Now, that's the look of love!
Usually conservative when it comes to PDA, Anne Hathaway let loose over the weekend in New York, celebrating her engagement to Adam Shulman with a PDA fest in a Brooklyn Park, where the 29-year-old actress showed off her ravishing new rock of an engagement ring – and RadarOnline.com has the photos.
Hathaway and her new fiancé couldn't keep their hands (or lips!) off of eachother as they lolled around the park with their chocolate Labrador Retriever.
Article continues below advertisement
The actress proudly showed off her brand new 4 carat, cushion cut engagement ring, which was co-designed by Kwiat Heritage Jewels and Shulman himself.
Luckily Hathaway's fiancé is a good guy! Her last beau, Raffaello Follieri was charged with money laundering, wire fraud and conspiracy, and the actress relinquished rights to all the jewelry that he had purchased for her!
The actress dumped the Italian businessman in June, 2008, just before his arrest for the scam, which saw him take more than $3.6 million from investment funds and real estate firms.
During their time together he lavished Hathaway with beautiful gifts.
Following his sentencing, prosecutors in the case gave Hathaway the chance to put in an ownership bid on the items, which included Rolex watches, a five-strand pearl necklace, two rings and a Louis Vuitton box.
But Hathaway refused to accept the jewelry and it went to auction instead - the money raised from the auction went towards paying back those investors duped by Follieri.