A Star Is Born! Angelina Jolie's Film Debut As A Child Actress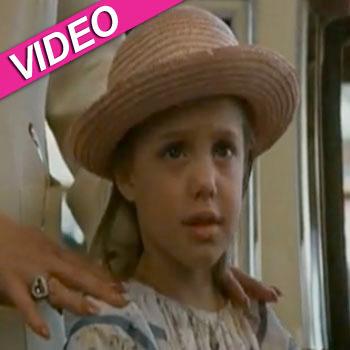 By Debbie Emery - Radar Reporter
Who does she look most like - Shiloh or Vivienne?
We're used to seeing mom-of-six Angelina Jolie with her own adorable children, but RadarOnline.com now has footage that shows that she was just as cute herself as a little girl.
The video is a clip from the Oscar-winner's first film role opposite her dad, Jon Voight, in his 1982 comedy Lookin' To Get Out in which she plays Ann-Margaret's daughter, Tosh.
Article continues below advertisement
The six-year-old (who is credited as Angelina Jolie Voight) is already showing the acting skills that would earn her fame, fortune and an Academy Award in later life as she bashfully tells the dashing stranger that she is from Las Vegas.
Dressed in a pink hat and frilly dress, the aspiring actress is cute as a button when talking shyly to her real-life dad on camera.
In the classic comedy, Voight plays a gambler who has to leave New York City because of a big loss and heads to Sin City to try and win it back.
Angie isn't the only member of his family that the actor got a part in the film, which he co-wrote — Angie's mom, Marcheline Bertrand was cast as 'Girl In Jeep.'
After nine years of marriage and two children, Bertrand was divorced from Voight two years before the film came out.
It was 11 years before Jolie won another big-screen role in the forgettable sci-fi action flick, Cyborg 2, that flew straight to video, but we're sure her first film holds a special place in her heart even after all these years.
Watch a clip of the movie below: