Exclusive
Woman Helped Out Of Pool By Prince Harry: 'I Smacked His Royal Bum!'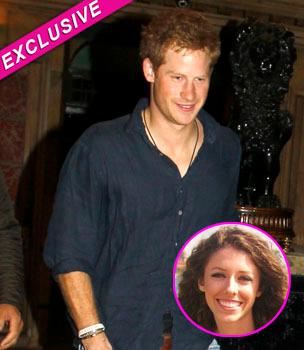 By Amber Goodhand - RadarOnline.com Reporter
It was a fairy tale come true when Lindsay Swagerty met Prince Harry in her hometown of San Diego, Calif., but instead of a night of glass slippers and ballgowns, hers was filled with skinny-dipping, dancing and a first kiss.
Swagerty opened up to RadarOnline.com in an exclusive interview about her night with the ginger Prince, which she says included "smacking his royal bum!"
Article continues below advertisement
"Prince Harry was sitting across the pool with one of his mates and they waved to us, but sadly we weren't going to get in," Lindsay recalled of her October 7 encounter at the Andaz Hotel with the 27-year-old.
"One of his friends started talking to us and took us to the bar then invited us into the private cabana to watch the rugby game with all his other mates... Harry and all of his friends and I were sitting on the couch laughing and joking around into the late hours of the night. I was having the greatest time talking to all of his different friends and being surrounded by British accents. Everyone was so nice and normal."
Lindsay, 23, revealed that one of the Brits then grabbed her hand, put it on the Prince's rear end and "smacked his royal bum!"
"I would never do that, but it was all in good fun, so my embarrassment left and we were all just laughing about it," Lindsay said, adding that Harry greeted her with kisses on the cheeks.
"How exciting for my first European kissing cheek experience to be with Prince Harry! We started talking and laughing. He seemed just like the other guys and was really nice. He was polite and a gentleman."
Article continues below advertisement
Lindsay said that about an hour after the bar closed at 2 a.m., the group continued to hang out and most of Harry's friends eventually stripped down to their skivvies and jumped in the rooftop pool.
"Before I knew it, one of his mates who I had been talking with before, picked me up and threw me over his shoulder to joke around about tossing me in the pool. I was not expecting that at all. It was hilarious and I was squealing 'No!' through my laughter, which I assumed worked once I got set down on the ground again…only to be picked up seconds later by him as he jumped in the pool with me in his arms — high heels and all!" Lindsay told RadarOnline.com.
"All the guys already had towels they were drying off with since they all had jumped in before I got tossed in. Harry came over to me to wrap his towel around me, which was nice. All of the guys were nice as well and I got about five more towels wrapped around me after that.
"But there was no 'rescuing' involved. The pool is only a few feet deep and I got helped out."
The following night Lindsay met up with Harry and his friends once again at the nightclub Ivy in the Andaz Hotel.
Article continues below advertisement
"Saturday night we ended up back at the Ivy and this time in the VIP balcony section of the nightclub. Harry was there hanging out with more of his friends he came over to the U.S. with," Lindsay said.
"Everyone was having fun, talking, and dancing... Harry was sitting on the ledge above the couch by himself when I saw him, so I approached him. He recognized who I was when I was walking over and was pointing at me in a very charming, silly way as I approached him, both of us smiling. We exchanged English cheek kisses and a hug.
"He asked which friend of his had thrown me in the pool and was joking around and apologized for him too. We were both laughing about it and I thanked him for wrapping a towel around me when I got out and our conversation was very sincere and kind."
Lindsay hasn't spoken to the Prince since that weekend and unfortunately took no pictures to remember her encounter with, but says she'll never forget it.
Article continues below advertisement
"So many girls would do anything to be able to watch the rugby game with Harry and all his mates and hang out at Andaz with them, so I almost feel guilty it was me just because it wasn't that big of a deal to me," she said.
"I mean that in no disrespect whatsoever, but we are all people at the end of the day. That being said, though, it wasn't like I didn't squeal a couple times telling the story to my friends the next day."