Prince Harry Leaves San Diego Hotel After Fun-Filled Weekend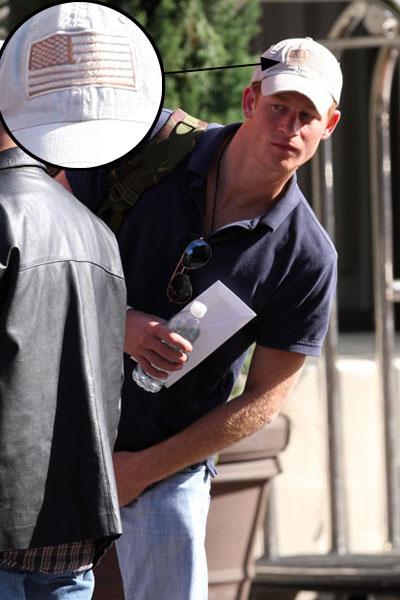 Prince Harry sported the stars and stripes on his cap Sunday as he left San Diego's Andaz Hotel, where he spent the weekend partying at the establishment's in-house nightclub, Ivy Rooftop.
As we previously reported, the red-headed royal and about 20 pals were spotted Friday at the nightspot, where they sipped on Absolut Vodka, Red Bull and beer, before taking to a private cabana to watch a rugby match until the wee hours of the morning.
Article continues below advertisement
Of course, it's a trip of business and pleasure for the prince, who's in Southern California to prepare for the final phase in his training as an Army Apache pilot.
The 26-year-old royal, who arrived at the Naval Air Facility in El Centro, California (about 110 miles east of San Diego) on Thursday, will also train in Arizona.
It's all part of the two-month mission dubbed Exercise Crimson Eagle, in which British fliers will practice with the Apaches in terrain similar to southern Afghanistan, where some British troops are currently based. During this trip, Harry will use live fire for the first time in his helicopter gunship training.
This past March, Harry said his "goal is to serve his country like everybody else in the British forces.
"I count myself very, very lucky to have the chance to fly helicopters and even luckier to have the chance to fly the Apache," the younger brother of Prince William said. "It's a fantastic piece of kit, it's like flying a robot."
In 2007-08, the prince served as a second lieutenant for the Blues and Royals regiment of the Household Cavalry for 10 weeks in Afghanistan, directing air traffic in offensive strikes against purported Taliban hideouts. His service time during the stint was cut short after officials pulled him out of the area, citing the intense media scrutiny put the prince and his fellow soldiers in harm's way.