San Diego Waitress: 'I Am Not Sleeping With Prince Harry'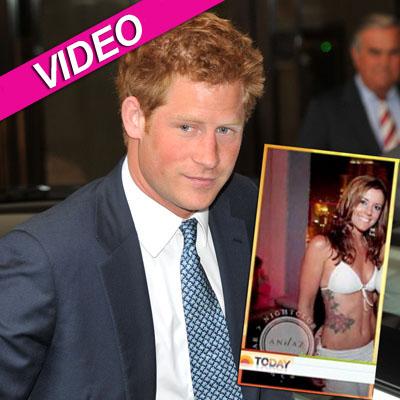 A 26-year-old California cocktail waitress says she never got romantic with Prince Harry, correcting a report from a small tabloid site.
San Diego native Jessica Donaldson told The Sunday Daily Mirror that a picture posted on RumorFix.com was taken at a deceptive angle, and that she never kissed the red-headed royal when they hung out at the Belly Up Tavern, a bar in Solana Beach, California earlier this month.
Article continues below advertisement
"He was a real life Prince Charming," Donaldson, a tattooed beauty, told the paper. "He is so sweet. In fact, he was kind of goofy with me. I really like him, but I am speaking out now because I want people to know the truth. I am not sleeping with Prince Harry, and he has never been anything other than a total gentleman to me.
"I am very upset that all this has blown up. He is just a regular guy who enjoys a few beers with his buddies," she continued. "He's really cool and down-to-earth and that's what I liked about him. I'm flattered he showed me attention, but there is nothing more to it than that."
Donaldson noted that while a little flirting might have went on, she has a live-in boyfriend of three years named Brandon Thomason.
Watch the video on RadarOnline.com
As we previously reported, the red-headed royal has been in parts of California and Arizona to prepare for the final phase in his training as an Army Apache pilot.
He's been on a two-month mission dubbed Exercise Crimson Eagle, in which British fliers practice with the Apaches in terrain similar to southern Afghanistan, where some British troops are currently based.
Article continues below advertisement
In 2007-08, the prince served as a second lieutenant for the Blues and Royals regiment of the Household Cavalry for 10 weeks in Afghanistan, directing air traffic in offensive strikes against purported Taliban hideouts. His service time during the stint was cut short after officials pulled him out of the area, citing the intense media scrutiny put the prince and his fellow soldiers in harm's way.
Visit msnbc.com for breaking news, world news, and news about the economy