President Obama: 'The White House Is Gonna Get Egged' Because Of First Lady's Halloween Treats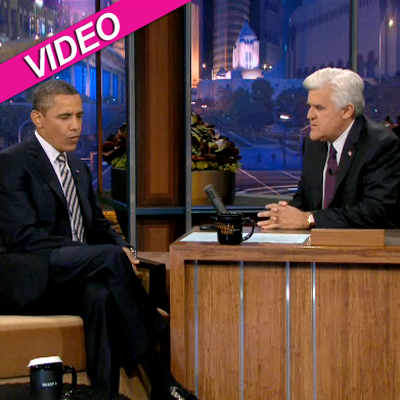 President Barack Obama chat with Jay Leno Tuesday about a variety of topics, including his wife's healthy Halloween treats, his comments that he doesn't want his daughters watching Keeping up with the Kardashians, and the 2011 deaths of terrorists Muammar Gaddafi and Osama bin Laden.
The president told Leno he thinks First Lady Michelle Obama may have taken her healthy eating crusade for kids too far -- at least for trick or treaters' tastes!
Article continues below advertisement
The First Lady, he said, has "been giving, for the last few years, kids fruit and raisins in the bag.
"And I said, 'The White House is gonna get egged if this keeps up -- you need to throw some candy in there!'"
On the Kardashians, the president, making his fourth appearance on The Tonight Show, admitted he's "never seen the show.
"I'm probably a little biased against reality TV ... partly because there's this program on C-Span called congress!" he joked.
The president said of Friday's death of ex Libyan leader Muammar Gaddafi at the hands of a rebel mob: "This is somebody who, for 40 years, had terrorized his country, had supported terrorism and, he had an opportunity, during the Arab Spring, to finally let loose of his grip on power and to peacefully transition into democracy.
"We gave him ample opportunity but he wouldn't do it ... obviously, you never see anyone come to the kind of end that he did, but it sends a strong message around the world to dictators that people long to be free, and they need to respect the human rights and the universal aspirations of people."
Article continues below advertisement
Asked about Gaddafi's gruesome death being televised, the president said, "that's not something we should relish.
"I think there's a certain decorum in which you treat the dead, even if it's someone that's done terrible things," he said, adding that was the key factor in his decision not to publicly show pictures of a dead bin Laden this past May.
The president said the reason he sent Navy SEALs to capture the 9/11 mastermind in May was because they are "the best of the best: They are professional, they are precise, they're prepared for the worst, in almost any circumstances."
Watch the video on RadarOnline.com
The commander-in-chief, who in March 2009 became the first sitting president to appear on NBC's iconic franchise, said he knew there was tremendous risk, but he was "100 percent confident in our men and women in uniform are the best there is."
On a much less serious note, Leno asked the president about his trip to Roscoe's Chicken & Waffles while in Los Angeles.
"Once we got in .. it smelled pretty good!" he said. "The fancy presidential limousine smelled like chicken! ... outstanding chicken!"