President Barack Obama Stops At Roscoe's Chicken 'N Waffles In LA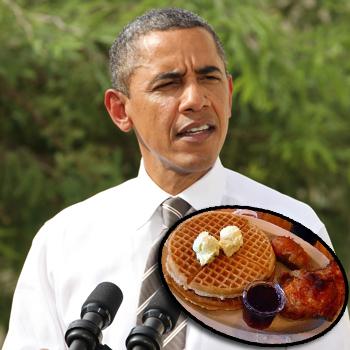 Senior RadarOnline.com Reporter
Does Michelle Obama know what Barack did on Monday?
While in Los Angeles for two high dollar fundraisers the President stopped at a Los Angeles landmark, the famous Roscoe's Chicken 'N Waffles restaurant, for a quick, high calorie meal and surprised the customers.
With his jacket off and his shirt sleeves rolled up, the President greeted the excited customers in the restaurant, according to the pool report.
Article continues below advertisement
He shook hands with a young boy who reportedly said: "I'm never going to wash my hand again," and watched the President make the rounds in the restaurant.
Obama ordered the #9 meal -- the Country Boy 3 wings with choice of waffle, potato salad or French fries - which according to some calculations has a whopping 941 calories!
Not exactly the low-calorie meal the First Lady would approve of!
RELATED STORIES: