Fourth Suspect Arrested In Philadelphia Dungeon Case, More Victims Revealed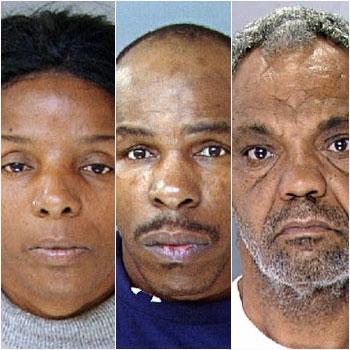 Police in Philadelphia have arrested a fourth person on Wednesday in connection with the kidnapping of four mentally challenged adults who were found chained in a basement last weekend, RadarOnline.com has learned.
Jean McIntosh was taken into custody and charged with a string of offenses including kidnapping, conspiracy, unlawful restraint, false imprisonment, and assault, the Philadelphia district attorney's office confirmed according to a report on CNN.com.
Article continues below advertisement
The latest suspect is the 32-year-old daughter of the alleged ringleader, Linda Ann Weston, 51, who was arrested along with Eddie Wright, 49, and Thomas Gregory, 47, on Saturday after three men and a woman were found chained in a Tacony, Pennsylvania house.
As RadarOnline.com previously reported, the torturous trio allegedly kidnapped their victims so that they could cash in their social security checks and then kept them like chained dogs in the makeshift dungeon in the house where McIntosh had an apartment.
The block captain for the neighborhood revealed his shock that McIntosh was involved in the hideous crimes. "I'm feeling sick to my stomach," Danyell Tisdale told CNN after he heard that she was arrested.
"She was a nice neighbor and didn't bother anybody. It's shocking to me that she had anything to do with it. My sister's children played with her two children."
As the number of suspects in the bizarre case mounts, so does the number of victims - some of whom are also related to Weston.
Article continues below advertisement
The accused mastermind's 19-year-old niece, Beatrice Weston, was locked in a closet upstairs while the police were busy downstairs in the boiler room sifting through the dank horror last weekend, Police Commissioner Charles H. Ramsey told the Philadelphia Inquirer how he had never seen such signs of abuse in a living person, as he descrbed the pellet guns wounds and spoon-shaped burns that covered Beatrice, who had been reported missing since she was 8 years old.
The tortured teenage girl is thought to have been used as a pawn in a feud between Weston and another daughter, Vicky.
Eight children in total have been taken into protective custody by police, a boy and girl ages 5 and 2, are believed to have been born to Tamara Breeden, one of the four mentally challenged people found locked in the Tacony basement while she was held against her will.
Police are conducting DNA testing to determine whether the children's father is one of the other victims.
Article continues below advertisement
Police have not released the identifications of the victims but have confirmed other media reports are correct that name them as Derwin McLemire, Herbert Knowles, Edwin Sanabria and Breeden.
Despite being mentally challenged, the victims spoke out earlier this week slamming their kidnappers. "That was real dirty of you. That was wrong," said McLemire tearfully, who said he'd been held captive so long he didn't even know what day it was.
"I got a birthday coming up Friday and I didn't even know it was coming up. I'll be 42 years old," he told CBSPhilly.com.
The victims, who were all beaten during their captivity, are now being cared for at a personal care center paid for by the state where they are receiving medical treatment and regular meals.
"I want to stay here for good," said Breeden.
As RadarOnline.com previously reported, Weston, along with her boyfriend, Gregory, and Wright, a homeless man who neighbors said called himself a reverend, are thought to have fled north from Palm Beach, Florida, to escape the authorities there before being eventually captured. They did the long drive in a SUV with the four alleged victims held in the back.