Dr. Conrad Murray Trial: Prosecution To Finish With Final Witness Thursday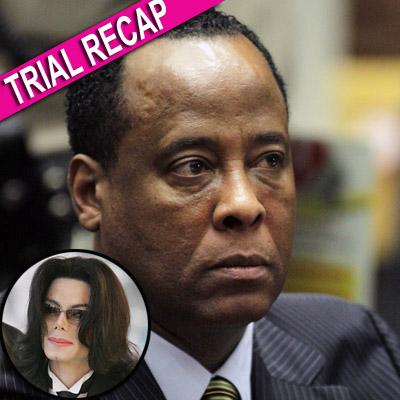 The prosecution's final witness, propofol expert Dr. Steve Schafer, is expected to wrap up his damning testimony Thursday in the trial of Dr. Conrad Murray, and RadarOnline.com will be live streaming the hearing starting at 8:45 am PDT/11:45 am ET.
Schafer, who teaches anesthesiology at Columbia University, testified to 17 "unconscionable" ways Murray's treatment of Jackson could have contributed to his death.
Article continues below advertisement
Schafer said the treatment Murray provided for Jackson in his final days was "egregious" and "inexcusable," noting the Houston-based doctor behaved more like Jackson's employee than attending physician.
"If Dr. Murray had acted like a doctor the first time Michael had said, 'I need propofol to sleep,' Dr. Murray would have said, 'You have a sleep disorder and you need to be evaluated by a sleep doctor. I am not giving you anything,'" Schafer testified.
Schafer testified that Murray's indiscretions leading to, and on the day of, Jackson's June 25, 2009 death, included: not keeping written records; leaving Jackson in the room alone; trying to help Jackson sleep with propofol; not having the right equipment present to administer the drug; and failing to call 911 immediately after Jackson went into cardiac arrest -- phoning the singer's assistant instead.
Article continues below advertisement
"That is so egregious that I actually find it difficult to comprehend -- you have a patient who has been arrested and you call and leave a voice message for someone ... that is so completely and utterly inexcusable," Schafer said. "Dr. Murray was quite clueless as to what to do."
The defense is expected to present its witnesses, including its own anesthesia expert, starting on Friday and will likely conclude its case next week. The state will then be allowed to call rebuttal witnesses.