Michael Jackson Slurring His Words Recording Played At Trial: 'I Didn't Have A Childhood'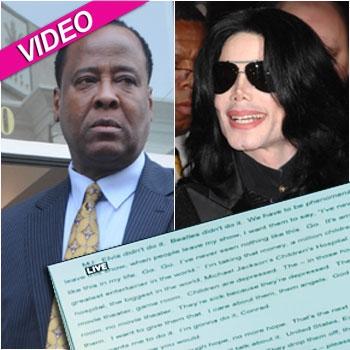 By Alexis Tereszcuk - RadarOnline.com Senior Reporter
The trial of Dr. Conrad Murray will continue Thursday with prosecutors focusing on the multitude of drugs found in Michael Jackson's home -- propofol, lidocaine, lorazepam and others -- as they try to convince a jury that the Houston-based cardiologist is guilty of involuntary manslaughter in the singer's death.
L.A. Deputy District Attorney David Walgren has said he will call a toxicology expert and a coroner's investigator to testify. RadarOnline.com will resume its gavel-to-gavel live stream of the trial, beginning at 8:45am PT/11:45am ET today.
Article continues below advertisement
On Wednesday, the prosecution played the complete voice recording made by Murray of Jackson in court. In the recording, the singer is heard slurring his words is almost incoherent as he talked about his dreams for his future, which was cut short upon his tragic death on June 25, 2009.
The transcript of the recording played in court:
Michael Jackson: Elvis didn't do it. Beatles didn't do it. We have to be phenomenal. When people leave this show, when people leave my show, I want them to say, 'I've never seen nothing like this in my life. Go. Go. I've never seen nothing like this. Go. It's Amazing. He's the greatest entertainer in the world.' I'm taking that money, a million children, children's hospital, the biggest in the world, Michael Jackson's Children's Hospital. Gonna have a movie theater, game room. Children are depressed. The – in these hospitals, no game room, no movie theater. They're sick because they're depressed. Their mind is depressing them. I want to give them that. I care about them, them angels. God wants me to do it. God wants me to do it. I'm gonna do it, Conrad.
Conrad Murray: I know you would.
MJ: Don't have enough hope, no more hope. That's the next generation that's gonna save our planet – starting with – we'll talk about it. United States, Europe, Prague, my babies. They walk around with no mother. They drop them off, they leave – a psychological degradation of that. They reach out to me – please take me with you.
CM: Mmmm-mmm.
MJ: I want to do that for them.
Article continues below advertisement
CM: Mmmm-mmm.
MJ: I'm gonna do that for them. They will be remembered more than my performances. My performances will be up there helping my children and always be my dream. I love them. I love them because I didn't have a childhood. I had no childhood. I feel their pain. I feel their hurt. I can deal with it. Heal the World, We Are the World, Will You Be There, The Lost Children. These are the songs I've written because I hurt, you know I hurt.
13 seconds silence
CM: You ok?
8 seconds silence
MJ: I am asleep.
Michael's brother Jermaine wiped tears away as the recording was played in court.
RadarOnline.com is live streaming the hearing and will continue to provide breaking news updates from Dr. Conrad Muarry's trial. If convicted, Murray could face up to four years behind bars.
Listen to the recording of Michael slurring his words below:
radar_embed service=5min.com src=" http://pshared.5min.com/Scripts/PlayerSeed.js?sid=1126&width=486&height=412&playList=517713222&sequential=1&shuffle=0"