Had A Little Work Done Megan? Fox Shows Off Fuller Looking Face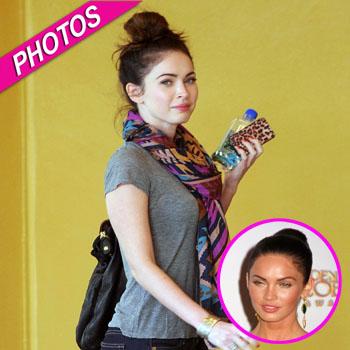 Did Megan Fox do something to her face?
The former Transformers star hit the Los Angeles premiere of Puss In Boots on Sunday night, looking somewhat different than her former self – and RadarOnline.com has the photos.
Brooke Barlow, R.N. Aesthetics at the BioMed Spa, in Beverly Hills and has worked for famed plastic surgeon Dr. Garth Fisher for several years, but has not treated Fox, tells RadarOnline.com that in her opinion the actress has had a little work done to "improve" her already beautiful face.
Article continues below advertisement
"Megan definitely has had some work done. I would say either fat transfer or dermal fillers," Barlow says. "You can tell in the fullness of her cheek and chin. Where there was once a more defined zygomatic arch (cheek bone), now she is round and full. Also, her naso labial folds (smile lines) are non existent, due to the fullness in her mid face that lifts the cheek."
The 25-year-old actress was casually clad at jeans, a grey-t-shirt, fringed boots and a Theodora & Callum Navajo Blanket scarf as she arrived with her husband Brian Austin Green and his son – but it wasn't her outfit that grabbed the most attention.
Fox, who was the subject of plastic surgery speculation earlier in this year too, definitely appeared to have fuller cheeks and lips.
As RadarOnline.com previously reported, Fox denied getting Botox, going to the extreme of posting photos of herself and her forehead wrinkles on Facebook.
Do you think Megan Fox looks different? Leave comments below.
RELATED STORIES: