Exclusive
Megan Fox Removing Marilyn Tattoo Because She Claims Monroe Was Bipolar And It Causes 'Negative Energy'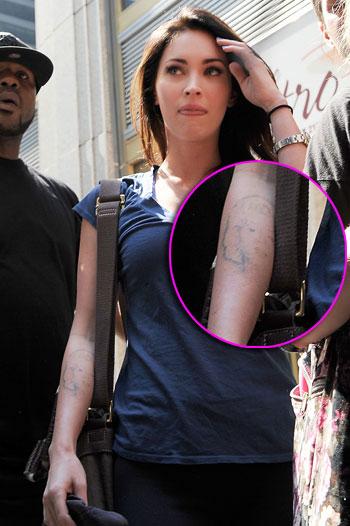 The mystery of Megan Fox's disappearing Marilyn Monroe tattoo has finally been solved!
The outspoken actress, who was such a huge fan of the Hollywood legend that she got her face permanently inked on her right arm, recently opened up to
an Italian magazine about why she has decided to get the tattoo removed.
"It's a negative character, as Marilyn Monroe suffered from personality disorders and was bipolar," Fox told Amica magazine. "I do not want to attract this kind of negative energy in my life."
Article continues below advertisement
Monroe isn't the only celeb who Fox honored on her hot bod! She also explains that the belly button piercing she got as a teenager and removed at age twenty, was inspired by a certain pop star.
"I did it when I was 16-years-old because I was a fan of Britney Spears. The only time I tried to imitate someone else. But then I thought it was tacky so I removed it when I turned 20."
RELATED STORIES: