Megan Fox Takes A Dip With New Costars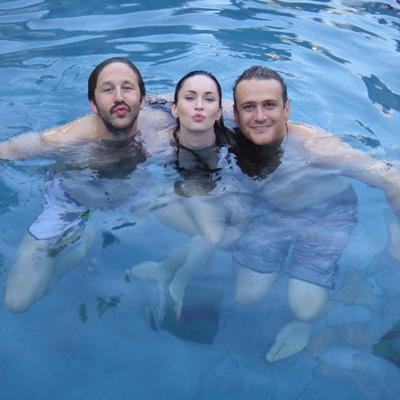 She was unceremoniously fired from the third Transformers movie after a reported feud with the films director Michael Bay.
But it looks as if Megan Fox is getting on swimmingly with the cast and crew of her new movie, This Is 40.
The 25-year-old actress posted a picture to her Facebook page on Saturday showing her splashing around in a swimming pool with her co-stars Jason Segal and Chris O'Dowd.
Article continues below advertisement
The threesome posed up and blew kisses at the camera in the fun shot take in between takes on the Los Angeles set.
"On set of This Is 40 with Jason and Chris...Two very handsome, very tall, VERY funny men," Megan wrote.
The Judd Apatow directed comedy, in which Megan has a small role, is a spin-off from his movie Knocked Up and centers around Paul Rudd and Leslie Mann's characters.
"Megan Fox is so funny. She's hilarious," Mann told MTV recently. "You wouldn't, I don't know if other people expect it, but I think she is really funny. You'll be pleasantly surprised."