Exclusive
Katherine Jackson May Not Be In LA For Dr. Conrad Murray Verdict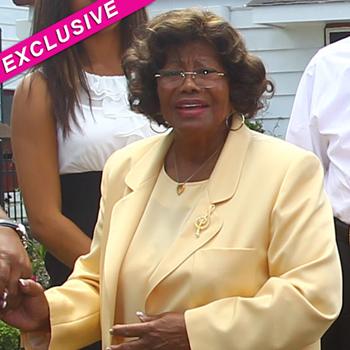 Article continues below advertisement
"I will be with Katherine in London next week with my law firm partner Susan Yu, Katherine, Tito, Rebbie, we are going to be in London for the premiere of David Gest's brilliant and wonderful documentary about the life of Michael Jackson. It's called Michael Jackson: The Life of An Icon and we will all be there for that premiere, so we will probably be in London when there is a verdict," Mesereau said.
"I went to a private premiere of his film, a private screening, of his film a few months ago in Los Angeles at Universal Studios and it's one of the most brilliant, kindest, most sensitive documentaries about Michael Jackson ever and when I went to see it I was wondering if it was going to be new material or had I seen everything, and I was so moved by this wonderful documentary. It goes through Michael's ups and downs...I'm glad Katherine will be there for the premiere because it's a very positive piece about a brilliant, wonderful, kindhearted human being that all of us loved," Tom asserts.
Article continues below advertisement
Watch The Trailer of Michael Jackson: The Life Of An Icon
Mesereau successfully represented Michael Jackson during his 2005 molestation trial in Santa Maria, California. The documentary will cover the ups and downs of the singer's complex life, and include interviews with Katherine Jackson, Tito and Rebbie.
Dr. Conrad Murray's defense is expected to wrap up it's case by Friday, and final arguments could be heard on Monday.
As RadarOnline.com previously reported, Murray broke down in tears as his best friend and patient testified on his behalf on Wednesday morning.
If convicted of the involuntary manslaughter of Michael Jackson, Dr. Murray could face up to four years in state prison.
You can watch the trial live, here, on RadarOnline.com.
RELATED STORIES:
LIVE STREAM: Dr. Conrad Murray On Trial In Michael Jackson's Death – Watch It Here Live