The Queen Nixes Kate Middleton's Vogue Cover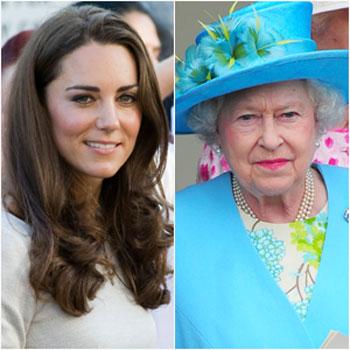 Appearing on the cover of Vogue magazine is one of the highest honors a Hollywood star can achieve but even the iconic glossy fashion magazine is below the high standards of the British royal family, RadarOnline.com has learned.
Kate Middleton had been rumored to be considering appearing on the coveted cover but politely declined earlier this week, despite editor Anna Wintour trying to persuade her through photographer and friend, Mario Testino, who shot the Duke and Duchess of Cambridge's engagement photos last year.
Article continues below advertisement
Now E!Online is reporting that the Queen of England herself is vetoing the idea as she doesn't want her granddaughter-in-law posing for the magazine.
"Kate is keenly conscious that while her new grandmother-in-law may not chide her for appearing on a Vogue cover, but she would definitely not be amused, and Her Majesty is a real genius at making people squirm with simply a look or a 'tut, tut,'" a source told E!
"Both William and Kate are free to be interviewed or photographed by whoever they choose," one senior royal aide explained. "They are a modern, progressive couple and I'm sure there will be lighter exchanges with the media in the future."
However, simply because they officially have the freedom to do what they want, that doesn't mean the well-behaved couple are will go out of their way to upset the monarch.
Article continues below advertisement
"But both William and Kate feel it would be wrong for Kate to promote herself as a fashion or style icon. That's not what they are about and they take their royal duties far too seriously to, in one sense, trivialize them," explained E!'s source.
10 Brit Babes With Banging Bikini Bods!
Whether she graces the cover of her magazine or not, Wintour remains a big supporter of Kate's sense of style.
"She dresses her age and never looks out of place," said the renowned editor.