Jessica Simpson Is Expanding, And So Is Her Real Estate Portfolio!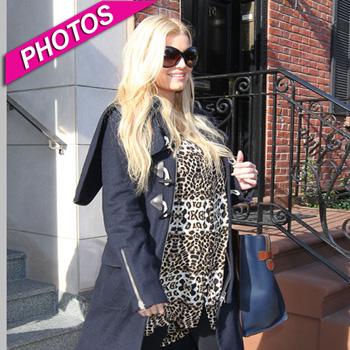 It looks like Jessica Simpson's assets are growing in more ways than one!
The 31-year-old star, who has been flaunting her rather large baby bump all over New York City this week in tight, spandex tops, was spotted checking out real estate on Friday – and RadarOnline.com has the photos.
Tenting her baby bump in an oversized leopard print top and toggle trench, the blonde beauty was beaming from ear-to-ear as she checked out swanky potential residences with her mom, Tina Simpson, and a few pals.
Article continues below advertisement
Though Simpson has yet to confirm that she is pregnant with her first child with fiancé Eric Johnson, an expert told RadarOnline.com that the star appears to be six months pregnant.
So, why is the mom to be keeping mum on the subject?
As RadarOnline.com previously reported, Simpson was hoping to score a $500,000 payday from a magazine to announce her good news.
But according to a public relations expert, Jessica just doesn't have the star power required to snag half a million dollars for photos or confirmation of her pregnancy.
"The issue with Jessica Simpson maybe is that she simply hasn't been 'hot' lately in terms of relevant, big celebrity occurrences," President and CEO of 5WPR, Ronn Torossian, told RadarOnline.com in an exclusive interview.
"No big movie, hit album or A-list happening, and even though she's an A-list celebrity...in this economy, media needs to know for $500,000 that something is a sure bet -- and Simpson simply may not be seen as that today.