Helicopter Crashes Into New York's East River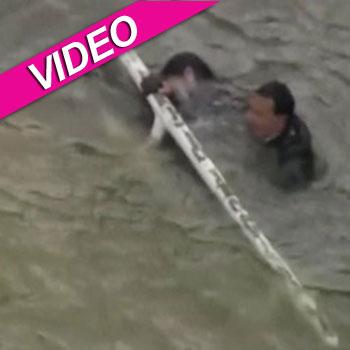 UPDATE: A woman has been confirmed dead in the helicopter crash after being trapped in the underwater wreckage.
The remaining passengers are being treated in Bellevue and NYU Hospitals, another woman was in cardiac arrest and two others are also in critical condition, reported the New York Post.
Watch the rescue live on CBS New York
A fourth person, also a man, was treated on the pier.
All of the passengers were on a sight-seeing tour from England.
Article continues below advertisement
A helicopter crashed into New York's East River on Tuesday and RadarOnline.com has dramatic video of the rescue as survivors swam for their lives.
The accident happened after the tourist helicopter containing five passengers took off from a heliport on the water near East 34th Street and then dove into the water at 3.24 p.m. local time.
The pilot and three others were pulled from the water shortly after it went down by rescue crews, but divers continued to search for the fifth passenger.
After two of the survivors were spotted by eye-witness clinging to the chopper's underside, they were pulled out of the water within minutes by the fast acting FDNY firefighters and NYPD divers.
"The water is not too cold, but even 60 degrees can be dangerous," Coast Guard spokesman Erik Swanson told the New York Post.
The story is developing.
RELATED STORIES: