Plane Flies Into Ferris Wheel Trapping Riders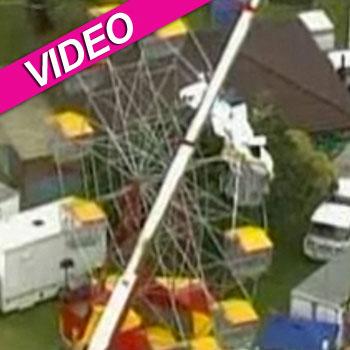 It was supposed to be a thrilling ride at a local festival, instead it was a real-life horror show when a plane flew right into a Ferris wheel, trapping riders and the plane's occupants.
It all happened Saturday morning in the coastal town of Canberra, Australia.
A Cheetah S200, an ultralight plane, slammed into the Ferris wheel, becoming ensnared in its wires and cables like a spider in a web.
Article continues below advertisement
Fortunately, because of impending rain, the Ferris wheel had just emptied out except for two riders who wanted one final ride. They were a boy, 9, and a girl, 13.
Emergency workers raced to the scene. It took them 90 minutes to rescue the youngsters and a full three hours to rescue the pilot and passenger in the plane.
Incredibly, none of the four were seriously injured.
"The kids were fantastic," said Brett Campbell, one of the rescue paramedics. "They were so calm and so well-behaved and very brave. And so were the two gentlemen in the plane. They were just the best patients we could ever hope for, and the best thing about it, no one really had any injuries."