Cheerleading Coach Becomes 7th Victim Of Indiana State Fair Tragedy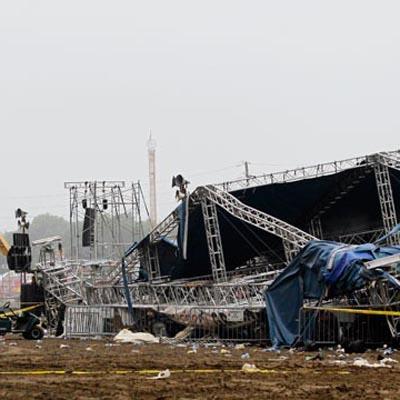 The death toll from the Indiana State Fair stage collapse grew to seven Monday afternoon, when 24-year-old Cincinnati cheerleading coach Meagan Toothman was removed from life support, by her family's request, for the purpose of organ donation, authorities said.
Toothman suffered injuries to her brain in the August 13 calamity, and had been in a medically-induced coma since August 15. She was taken off life support at Indianapolis' Methodist Hospital Monday at around 3:30 pm CT.
Article continues below advertisement
Toothman's family said, via a blog, that her organs "will provide gifts of sight, health and life to dozens who are in need.
"Late last night it became apparent that our Meagan was no longer with us. The decision was made to allow to her to be at peace.
"The outpouring of love and hope was more than we could possibly expect and was an inspiration to all of us to keep her fighting. We hope that she will continue to touch more lives in the same way through her passing."
The band who was slated to perform at the State Fair, Sugarland, took the stage for the first time since the accident last Thursday night at Albuquerque, New Mexico's Hard Rock Pavilion. There, the country duo of Jennifer Nettles and Kristian Bush called for a moment of silence for the injured "and the beautiful lives that were lost."
The other casualties of the tragedy are: Jennifer Haskell, 22, of Parker City, Indiana; Alina Bigjohny, 23, of Fort Wayne, Indiana; Christina Santiago, 29, of Chicago, Illinois; Tammy Vandam, 42, of Wanatah, Indiana; and Nathan Byrd, 51; and Glenn Goodrich, 49, all from from Indianapolis, Indiana.