Indiana State Fair: Lt. Gov. Salutes Saturday's Samaritans As Fair Re-Opens With Memorial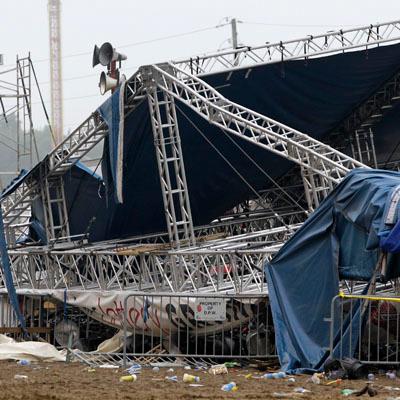 The Indiana State Fair reopened Monday with a public memorial service for the five people killed Saturday night after high winds caused a concert stage to collapse.
After a prayer to launch the service, Lt. Gov. Becky Skillman praised concertgoers who "set aside their personal concerns and moved toward the accident and not away."
Skillman said the best in people "is, and will continue, to be the silver lining in times of disaster."
Article continues below advertisement
Indiana State Fair To Re-Open Monday With Memorial Ceremony After 5 Killed At Concert
Other public officials in attendance at the ceremony, attended by an estimated 500 people, included Gov. Mitch Daniels, first lady Cheri Daniels and Mayor Greg Ballard.
In addition to the five deaths, more than 40 people (of an estimated 12,000 people in on hand to see the country music group Sugarland perform) were hospitalized after the disaster, authorities said.
Sugarland's Jennifer Nettles posted an emotional statement to the band's website Sunday, saying she was "so moved" by the incident for a variety of reasons.
Stage Collapses During Cheap Trick Performance
"Moved by the grief of those families who lost loved ones," Nettles said. "Moved by the pain of those who were injured and the fear of their families.
"Moved by the great heroism as I watched so many brave Indianapolis fans actually run toward the stage to try and help lift and rescue those injured. Moved by the quickness and organization of the emergency workers who set up the triage and tended to the injured.
Article continues below advertisement
"There are no words to process a moment of this magnitude and gravity. There are only prayers for peace in the hearts of the bereft, and prayers of thanksgiving for those who were spared or safe," Nettles wrote. "A piece of our heart is left in that grandstand."
Three Workers Injured Setting Up Elton John's Stage
"May God provide peace and healing to the people of Indianapolis."
Sugarland's opening act at the event, Sara Bareilles, wrote on her website, "The accident at the Indiana State Fair felt like a bad dream.
"The weather changed in a matter of minutes and the stage collapsed in a matter of seconds."
VIDEO: Madonna Breaks Down Crying During Concert; Pays Tribute To Dead Stage Workers
The victims of the tragedy are: Alina Bigjohny, 23, of Fort Wayne, Indiana; Christina Santiago, 29, of Chicago, Illinois; Tammy Vandam, 42, of Wanatah, Indiana; and Nathan Byrd, 51, and Glenn Goodrich, 49, both from Indianapolis, Indiana.