Stage Collapses During Cheap Trick Performance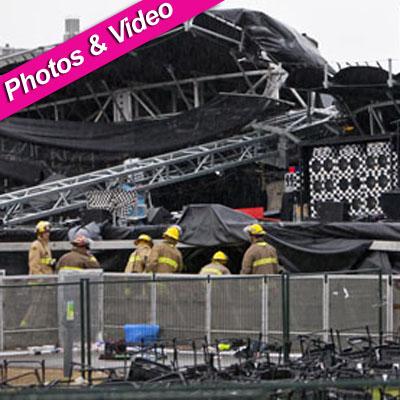 It happened in just seconds.
The main stage at the finale of the Ottawa Bluesfest collapsed when a freak storm hit without warning Sunday night.
Thousands of spectators were watching the band Cheap Trick perform when the storm hit with winds topping 50-miles an hour.
A severe thunderstorm watch had been in effect, but the powerful storm arrived with little warning and caught everyone by surprise.
Article continues below advertisement
At least four people were injured, including one man who suffered a broken pelvis and thigh and had a piece of stage pierce his stomach.
The concert was shut down immediately after the stage collapse.
Cheap Trick later posted a message on Facebook saying no one in the band was injured, along with a picture of some of the destruction.
"Everyone is okay and we are so lucky to be alive and hope that all the fans are okay, too," the band wrote.
The band was only 20 minutes into its set when the storm hit.