Bette Midler To Lady Gaga On Her Performance In Wheelchair -- 'I Did It First!'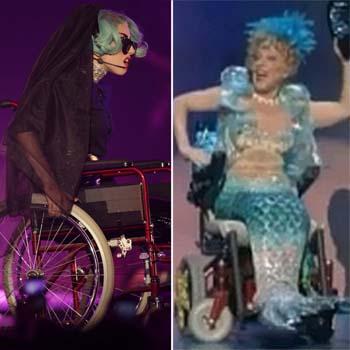 There's something fishy about Lady Gaga's controversial mermaid in a wheelchair routine and Bette Midler has the answer.
The legendary performer is rolling out the punches over Gaga's latest performance and accusing her of copying her act.
Taking to her Twitter page to set the record straight, The Divine Miss M made it clear there can only be one merwoman on wheels - and it's her!
"I'm not sure @ladygaga knows that I've performed my mermaid in a wheelchair for millions of people - and many of them are still alive," she wrote.
Article continues below advertisement
"Dear @ladygaga if you think a mermaid in a wheelchair seems familiar - it's because it is! You can see it on youtube 24/7 - with ME performing it."
And she completed her war of words with an amusing warning.
"Dear @ladygaga I've been doing singing mermaid in a wheelchair since 1980 - You can keep the meat dress and the firecracker t*ts - mermaid's mine."
RELATED STORIES:
Lady Gaga's Drug And Diet Hell: 'She's A Walking Time Bomb' Says Friend